Services
Pet Dog Training and Behavioural Consulting
Public Education
Private consultations
I offer private consultations in Qualicum Beach (my home or yours) or anywhere on mid-Vancouver Island, occasionally in Victoria, B.C.
House Calls
House calls have many distinct advantages. They are for your convenience and offer an easy way to include all family members (also other pets). Seeing your dog in his natural environment gives me additional clues as to what changes are needed and how to address those best. Furthermore, dogs learn new behaviours specific to a location first and I can help best by beginning to train 'on location', then I will coach you to take the next steps. Most behaviour problems are also initially best addressed at home. A house call is equally helpful with successfully introducing a new pup or 'second hand' dog into your household.
Specialties
Please, see under Specialties
Classes
Every class is structured in a way that allows you and your dog to succeed. The focus is divided equally between you (to learn better handling and training skills) and on your dog (to improve in obedient behaviour). Initially, both of you will acquire elementary skills and then build on those from class to class. All classes come with homework instructions so you know what and how to practise at home (or as a help to catch up if a class was missed).

With the help of my friendly and competent assistant we make sure that everybody receives quality instruction!
All classes are:
Taught in Qualicum Beach, Vancouver Island, B. C.
Fun for people and dogs alike (due to respectful,  humane and dog-friendly methods)
Based on the use of positive reinforcement (clicker compatible)


'Kindergarten Puppy Class'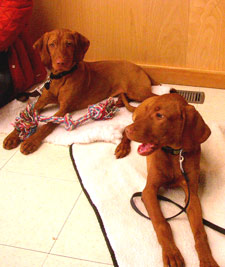 If you only ever took your dog to one class, it should be this one! It is in early puppyhood that a pup can receive maximum benefit from play with other puppies, various socialization experiences including handling and early obedience. At the same time, owners learn best how to successfully manage and teach their pup and how to troubleshoot and solve common puppy problems (for more information, see Puppy Primer).  The atmosphere in class is great fun for all involved and highly supportive.
Suitable for puppies with at least one set of vaccinations
Includes a course folder with relevant  information, weekly homework handouts,  and much ongoing support


'Obedience & More'
As a Level 1 class Obedience & More introduces basic obedience commands and teaches the owner effective training techniques. In addition, in depth information is offered on relevant topics such as How Dogs Learn, Leadership, Good Training Habits and Phasing out Treats.
Suitable for adult dogs or pups of at least five months of age
Includes a course folder with relevant  information and weekly homework handouts


'ABC's'
A short training primer for the owner and the dog. Ten foundation exercises teach successful management techniques, improve relationship, and address basic training in difficult situations, such as busy classrooms.
Suitable for adult dogs or pups of at least five months of age
3 sessions of 1 hour each
Includes a course folder with relevant  information and weekly homework handouts
'Life Skills 101'
This level 2 class teaches dogs and handlers skills for real life situations. It includes building attention and a strong relationship, building acceptance of handling (such as collar grabbing or grooming), resisting distractions such as food or moving objects. Meet and greet, and improved recall.
Suitable for adult dogs or pups of at least five months of age and previous class experience
'Games & Tricks'
This level 2 class is great fun for dogs and owners alike! Obedience is practised by playing games and learning tricks. As in all my classes, special attention is paid to increase the training and handling skills of the dog owner.
Suitable for dogs of at least five months of age with basic obedience skills
6 sessions of 1 hour each
'Re-Socializing Your Dog Safely'
This class is designed for dogs that have issues around strangers or other dogs. We keep stress levels to a minimum and teach dogs and owners alternative responses to previously challenging situations.
Participation in this class is dependent on an interview and a comprehensive questionnaire
8 sessions of 1 hour each
'No Big Dogs'
This introductory training class is designed to accommodate the specialized training requirements of smaller dogs (under 20 pounds) and their owners. It is available occasionally.
7 sessions of 1 hour each
Includes a course folder with relevant information and weekly homework handouts.
Public Education :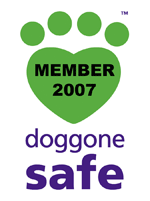 Public Education is one of my great passions! I strongly believe that we could prevent many tragedies if children and adults were better educated about dogs, their culture and body language. I am available to speak to any group about dog-related topics or for the programs listed below.
Be a Tree Presentation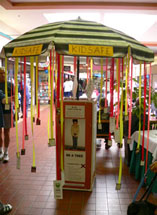 This fabulous bite-prevention program teaches general safety to children when faced with dogs. It is best suited to the age group of grade K-3. I am a licensed presenter of this program and would love to speak to your children!
You may book a presentation now for District 69 by contacting me domena@definitelydogs.ca To find a presenter in your area or for more information, visit www.doggonesafe.com
Canine Body Language and Kidsafe Displays
Two displays on canine body language are available for your fair. The content of one is tailored to adults while the other display (Kidsafe) has interactive elements that will appeal to children and adults alike.
Volunteer Shelter Dog Training Program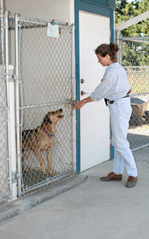 Shelter dogs often lack appropriate manners and may present with behaviour problems as well. My program is designed with that in mind.
The goal is to make shelter dogs more adoptable and to increase their meaningful and positive interactions with people.  This is achieved by engaging volunteers and teaching them easy and effective methods to help train the resident dogs.
The program is in its sixth's year at the Parksville/Qualicum SPCA. Find out how to become a volunteer or how to start one of these rewarding programs in your own shelter. For more information contact me domena@definitelydogs.ca